Nigerian singer and songwriter Tems gets called out for wearing a 'rude' dress at Oscars 2023.
Temilade Openiyi, known professionally as Tems, a Nigerian singer and songwriter is under fire for her dress which blocked the view behind attendees at the Academy Awards ceremony (Oscars).
The 27-year-old sported an all-white puffy gown that went around her head and was nominated for Best Original Song for the Black Panther 2's Lift Me Up track.

The Try Me hitmaker was slammed for blocking the crowd's view after the picture went viral on social media.

''Imagine waiting your whole life to be at the Oscars and you end up sitting behind a stratus cloud," one quipped.
"I guess the people behind the white veil don't get to see the show," another commented.
"Who has to sit behind that woman with the white veil," a third user said. "Rude."
"She looks stunning but perhaps they could have made the top bit detachable. Her designers should have thought this through," another jabbed at the designer.
Tems at the Oscars 2023 ceremony in a white dress that caused many people to have a different feelings about it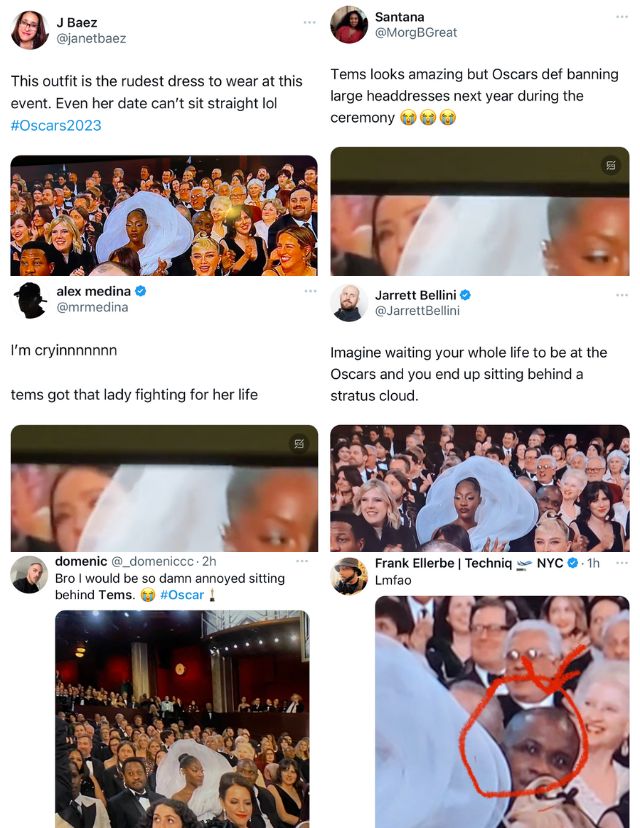 Social media users slammed Tems for wearing a rude dress which blocked the view behind attendees at the Oscars 2023

Tems caused outrage at the Oscars with view-blocking dress