It has been confirmed that hackers were able to remotely install surveillance software on phones and other devices using a major vulnerability in messaging app WhatsApp
WhatsApp, which is owned by Facebook, first discovered the flaw in WhatsApp earlier in May. They said the attack targeted a "select number" of users and was orchestrated by "an advanced cyber-actor"."Journalists, lawyers, activists and human rights defenders" are most likely to have been targeted, said Ahmed Zidan from the non-profit Committee to Protect Journalists.
On Monday, WhatsApp urged all of its 1.5 billion users to update their apps as an added precaution.
The surveillance software involved was developed by Israeli firm NSO Group, according to a report in the Financial Times.
WhatsApp promotes itself as a "secure" communications app because messages are end-to-end encrypted, meaning they should only be displayed in a legible form on the sender or recipient's device.However, the surveillance software would have let an attacker read the messages on the target's device.
Some users of the app have questioned why the app store notes associated with the latest update are not explicit about the fix.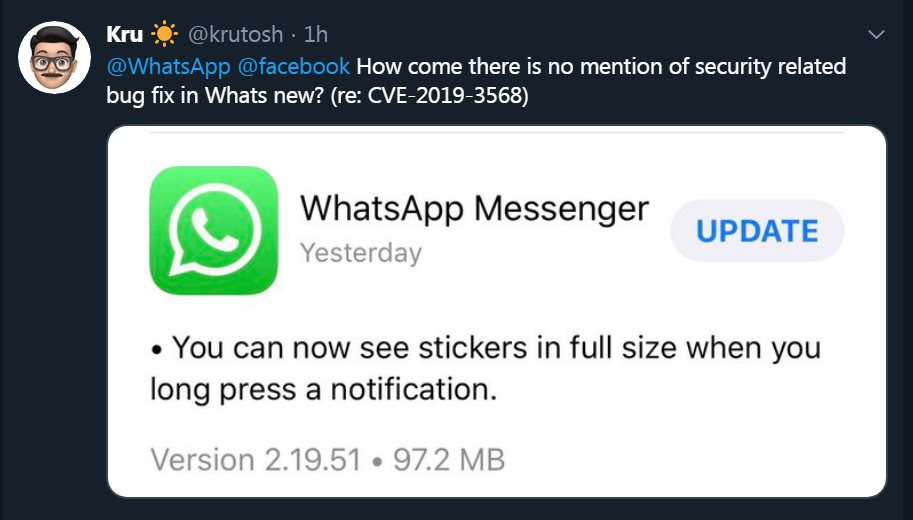 How do I update WhatsApp?
Android
§ Open the Google Play store
§ Tap the menu at the top left of the screen
§ Tap My Apps & Games
§ If WhatsApp has recently been updated, it will appear in the list of apps with a button that says Open
§ If WhatsApp has not been automatically updated, the button will say Update. Tap Update to install the new version
§ The latest version of WhatsApp on Android is 2.19.134
iOS
§ Open the App Store
§ At the bottom of the screen, tap Updates
§ If WhatsApp has recently been updated, it will appear in the list of apps with a button that says Open
§ If WhatsApp has not been automatically updated, the button will say Update. Tap Update to install the new version
§ The latest version of WhatsApp on iOS is 2.19.51
source: BBC