The FBI was able to unlock Farook's iPhone without Apple's help
Posted By: Tony Karera - On:29/03/2016
The debate row between Apple and FBI may have come to an end, as the latter was able to unlock the dead gunmans iPhone without the Silicon Valleys pearl companys help. Though this put an end to the court case, the whole issue on data encryption remains unresolved.
The beef – of Apple Inc. and FBI – which started last month has turned into FBI's favor. It was on Monday that the Intelligence Agency claimed to have accessed encrypted data on Syed Farook's iPhone with the help of a third party, which the FBI did not want to mention. Syed Farook and his wife killed more than a dozen people at an office party in the December 2015 San Bernandino attacks. They were later shot by the Police. But before that, Farook's wife ascribed the San Bernadino terror act to the terrorist group IS.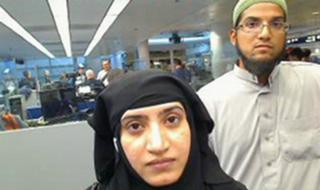 Syed Rizwan Farook (right) and his wife Tashfeen Malik
The FBI needed encrypted data on the iPhone 5C of Farook to know for sure if they had accomplices or not. The data would shed light on the investigations – ongoing, on the last December attack.
However, last week, Eileen Decker, the top federal prosecutor in California, said that the FBI did not successfully unlock the phone all on their own; there was an outside party involved. In her own words,
"It remains a priority for the government to ensure that law enforcement can obtain crucial digital information to protect national security and public safety, either with co-operation from relevant parties, or through the court system when co-operation fails." – E. Decker
Who is the third party "newly" involved in the row?
An Israeli newspaper, issued last week, reported that data forensic experts at the cyber security firm Cellebrite maybe the ones that helped with the iPhone 5 tedious unlocking process. As the BBC, which this story is originally from, wrote that Cellebrite affirmed they are effectively working with the FBI. The light over all this is yet to come to clear things up.
FBI was not the only party to have the say on this; Apple did too. The company said,
"From the beginning, we objected to the FBI's demand that Apple build a backdoor into the iPhone because we believed it was wrong and would set a dangerous precedent. As a result of the government's dismissal, neither of these occurred. This case should never have been brought. We will continue to increase the security of our products as the threats and attacks on our data become more frequent and more sophisticated." – Apple Inc.
This heated debate on data encryption between two the US giant organizations has not left a person unacquainted. The FBI move of unlocking Farook's iPhone surely saves time and energy that would otherwise be spent in court hearings; however, it dodges the real question and issue here, data encryption privacy.
This story was originally from the BBC.
Post a Comment
Most Read News