Roger Federer Scoops World Sportsman of The Year
Posted By: Patience Rutayisire - On:28/02/2018
Twenty-time tennis grand slam champion Roger Federer has won the 2018 Laureus World Sportsman of the Year and Comeback of the Year awards.
The 36-year-old Swiss won the Australian Open and Wimbledon titles in 2018 after seven years without a major.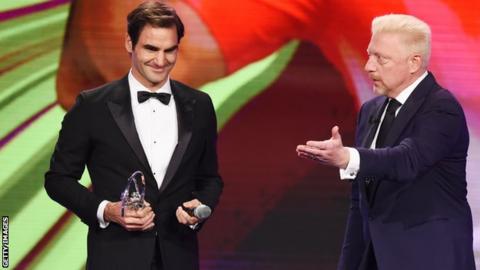 Roger Federer's Comeback of the Year award was presented by Boris Becker in Monaco
"I didn't believe I would ever come back to this level," said Federer. "The year I had was something else."
Serena Williams took the World Sportswoman of the Year award after winning her 23rd grand slam in 2018.
"This means the world to me," added world number one Federer.
"The comebacks are always extremely emotional. Last year was a dream come true."
Formula 1 constructors' champions Mercedes picked up the Team of the Year accolade, and wheelchair athlete Marcel Hug won Sportsperson of the Year with a Disability.
"There's so much expertise in all parts of our team, I feel so proud to be a part of it," said Mercedes' world champion Lewis Hamilton
Also at the ceremony in Monaco, golfer Sergio Garcia secured the Breakthrough prize following his Masters success, while recently-retired Roma forward Francesco Totti clinched the Laureus Academy Exceptional Achievement award.
Brazilian football club Chapecoense were given the Best Sporting Moment of the Year for their response in adversity following a plane crash in 2016 in which they lost the majority of their team.
Post a Comment
Article of the Day
As so many people are doing various things to break the Guinness De Record, an Omani man named Maher Al-Barwani decided to travel the entire world by using his motorbike. The sad thing is that his country, Oman is not helping him through.
Most Read News